UpDog Mission
To provide unparalleled levels of Yoga instruction and stress reduction in a calm, peaceful, safe and beautiful environment.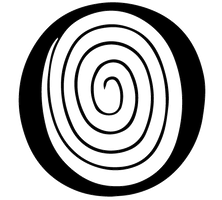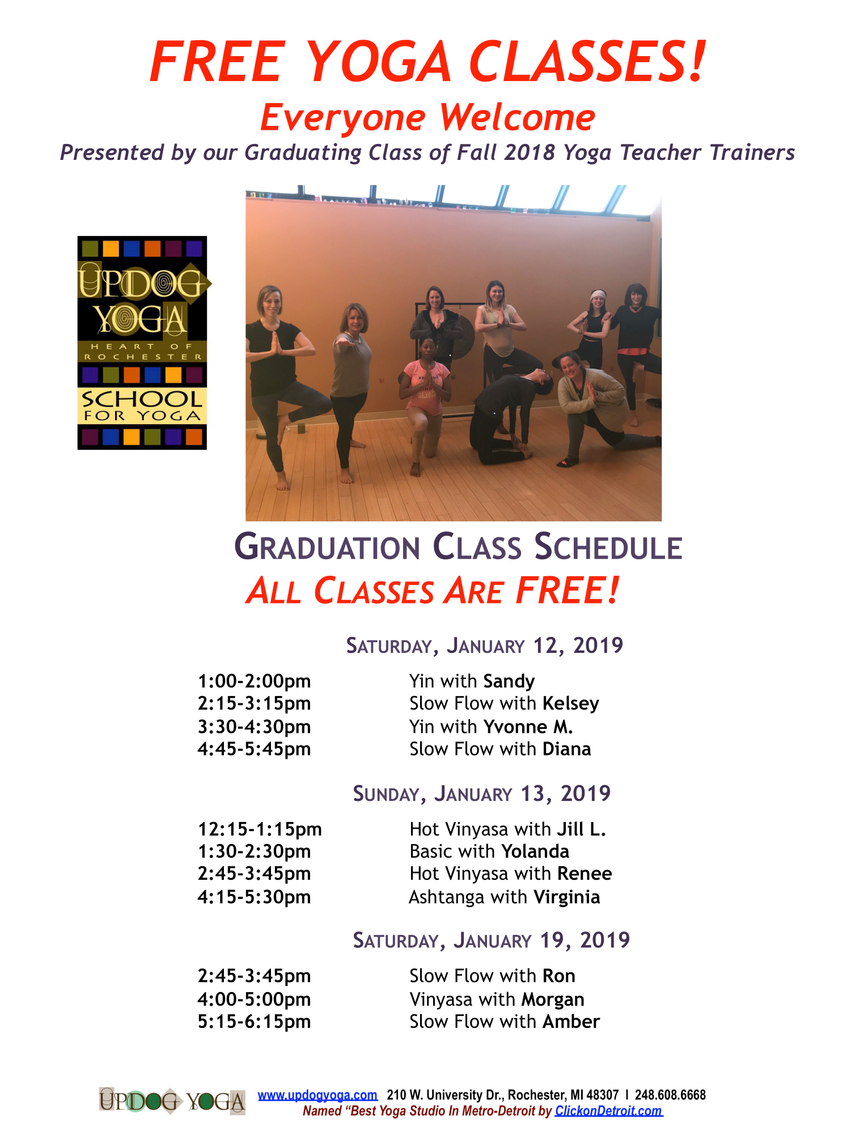 Our UpDog graduating class of Fall 2018 Yoga Teacher Trainers will be teaching their final graduation classes in Rochester and EVERYONE is invited to attend for FREE. Bring your family and friends and show the love for our newest Yoga instructors! Walk-ins welcome.
* Free classes are in addition to our regular class schedule (class rates apply for all other regularly scheduled classes on these days)
Beginners Intro To Yoga 1-Day Workshop In Sterling Hgts: Saturday, Jan. 19 @ 2:00-3:30PM
For Beginners with a limited time schedule, join Yvonne for this 1-day Intro To Yoga workshop in Sterling Hgts. Yvonne will walk you through the essentials to begin, or strengthen, your yoga experience so that you can feel comfortable and confident in your body and in your practice. You will receive one-on-one attention and leave this workshop feeling strong and energized for your next class! $25 per person ($30 door) on Saturday, Jan. 19 @2:00-3:30PM. Click here to visit the Sterling Hgts. Workshops page for details and to register, or call 586.232.9555.
Beginners Intro To Yoga Workshop Series In Rochester: Four Mondays in Feb/March @ 6:30-7:30PM
Learn the Basics of Breath, Posture & Awareness! This is a great introduction if you're at all apprehensive about taking your first Yoga class, as you'll be in the company of other first time yogis, just like you! No pressure as we have fun learning and exploring basic postures, breathing technique and building your confidence - YOU CAN DO THIS! Or perhaps you've already taken some classes and would like to spend more quality time learning the basics and how to move safely and smoothly from pose to pose as the foundation of any practice. Only $99 per person for all 4 weeks: 2/25, 3/11, 3/18, 3/25. Click here to visit the Rochester Workshops page for details and to register, or call 248.608.6668.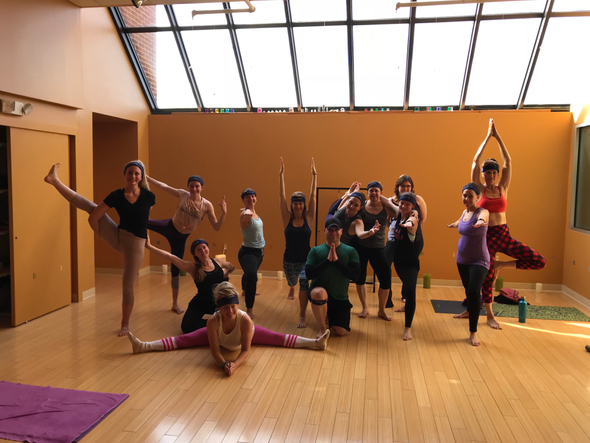 RYT200 Spring Yoga Teacher Training
ENROLL NOW TO SAVE ON TUITION AND TO START FREE YOGA CLASSES TODAY!
Start planning ahead now for Spring 2019 Yoga Teacher Training beginning March 3. UpDog School For Yoga can help you begin an open-hearted journey to becoming a Yoga Instructor as you learn how to share what you love with others – it's the best thing you'll ever do!
Click for all the details: https://conta.cc/2R6snvM
Click to submit Inquiry Form : https://form.jotform.co/71238716702859
Call or email Jill: 248.608.6668 jill@updogyoga.com
Take A Virtual Video Tour Of UpDog And Explore Our Beautiful Space!
Visit our second location, UpDog Yoga-Sterling Heights!
Take a virtual video tour of UpDog Yoga-Sterling Heights and our 1,000 sq. ft. practice room located at 13911 19-Mile Road with The Float Institute - a zero gravity float & wellness center. NEW STUDENTS: 5 Yoga Classes for only $15!
Check out our Yoga Class schedule: https://www.updogyoga.com/class-schedule-sterling-heights
Call: 586.232.9555
Email: info@updogyoga.com
UpDog Yoga Welcomes YOU!

UpDog Voted "Best Yoga Studio In Metro-Detroit" by WDIV Click-On Detroit
Visit our beautiful space, warm Yoga community and gifted instructors to see WHY!
UpDog Yoga Named 2018 MINDBODY Visionary!
This award recognizes businesses in the health and wellness industry who are supporting their communities.