UpDog Mission
To provide unparalleled levels of Yoga instruction and stress reduction in a calm, peaceful, safe and beautiful environment.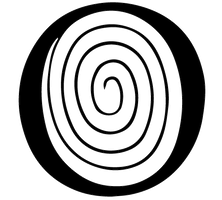 Beginners Intro To Yoga Workshop Series In Rochester: Four Mondays in April @ 6:30-7:30PM
Learn the Basics of Breath, Posture & Awareness! This is a great introduction if you're at all apprehensive about taking your first Yoga class, as you'll be in the company of other first time yogis, just like you! No pressure as we have fun learning and exploring basic postures, breathing technique and building your confidence - YOU CAN DO THIS! Or perhaps you've already taken some classes and would like to spend more quality time learning the basics and how to move safely and smoothly from pose to pose as the foundation of any practice. Only $99 per person for all 4 weeks: 4/1, 4/8, 4/15, 4/22. Click here to visit the Rochester Workshops page for details and to register, or call 248.608.6668.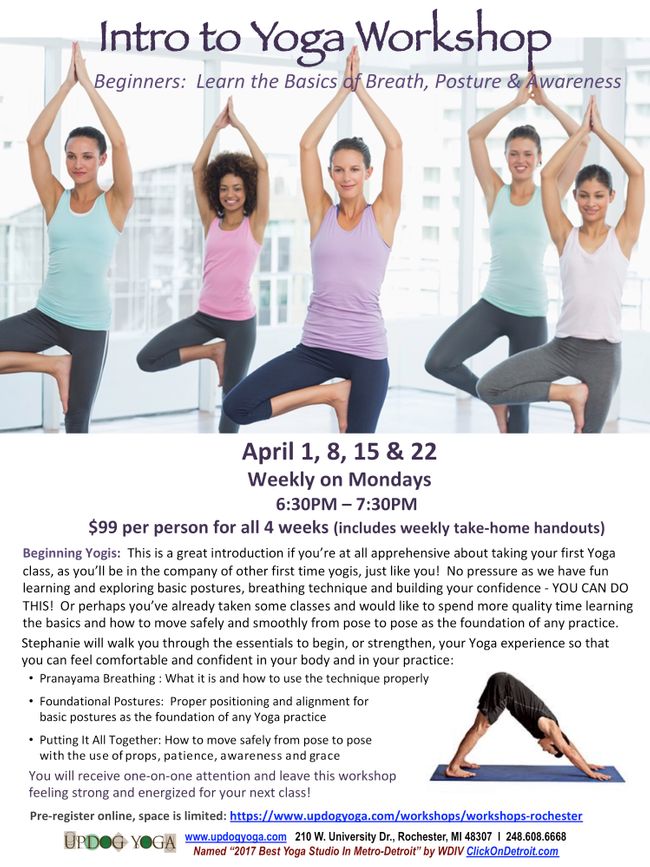 NEXT GENERATION YOGA KIDS TEACHER TRAINING CERTIFICATION
Kids Yoga Teacher Training presented by NEXT GENERATION YOGA, a Yoga Alliance approved international leader in Kids Teacher Training certification. This 25 hr. weekend training program April 26-28 is open to parents, educators, Yoga instructors - anyone interested in learning how to teach Yoga to children. Save 50% off tuition if you are a full-time school employee or student!
CLICK THIS LINK TO LEARN MORE AND TO BEGIN YOUR ONLINE REGISTRATION FOR APRIL 26-28: https://nextgenerationyoga.com/product/october-26th-28th-2018-8-13-yr-olds/
ARE YOU...
• a PARENT who would like to turn your Yoga practice into a family affair?
• an EDUCATOR in the public, private or home school sectors in need of fresh ideas that will support your students' learning?
• a CHILD PSYCHOLOGIST, THERAPIST OR PEDIATRIC PROFESSIONAL wishing to enrich your treatment with the positive effects of Yoga?
• a YOGA INSTRUCTOR or ENTHUSIAST who loves children?
...then the NGY Teacher Training™ presented by UpDog Yoga is for YOU!
Discover the non-stop fun of Yoga with kids! Join the thousands of yogis who have been certified by Next Generation Yoga® and learn how to teach Kids Yoga to 2-7 year olds.
The demand for Kids Yoga classes is on the rise! More and more, Yoga studios, schools, community centers and families around the globe are adding children's yoga classes to their daily schedules. There is a significant difference between teaching adults and kids and it is essential that teachers undergo the appropriate studies with a qualified, reputable, substantial training.
This 25-hour intensive provides a comprehensive, hands-on exploration of unique NGY methods for combining the ancient practice of Yoga with the playful nature of children. Age-appropriate poses, thematic classes, child development principles and behavior management techniques are sure to fill your Yoga bag with proven practices for developing meaningful Yoga experiences with children.
The 25-hr Kids Teacher Training is a full weekend immersion Friday, April 26 - Sunday, April 28, 2019 at the UpDog-Rochester School For Yoga. Upon completion of your NGY Teacher Training, you will receive a graduation certificate and be ready to teach Yoga to 2-7 yr. olds.
Program Cost: $695 + $85 REGISTRATION FEE
$100 off if you register by 3/26/19

$100 off if you are a graduate of a past NGY TT
50% off if you are a current full-time school employee or full-time student (not to be combined with other discounts)
Payment plans are also available
About Next Generation Yoga: Founded 20 years ago in NYC, by Jodi Komitor, Next Generation Yoga is a pioneer in the Kids Yoga movement internationally and was the first Yoga studio in the world designed just for Kids. Over those 20 years, NGY has certified over 2,300 teachers in kids yoga specialties and taught over 500,000 kids.
Next Generation Yoga is an approved 95-hour Registered Children's Yoga School (RCYS) through Yoga Alliance. Yoga Teachers registered with Yoga Alliance as an active 200-hour RYT may continue to earn their specialty designation as a Registered Children's Yoga Teacher (RCYT) by completing Next Generation Yoga's 95-hour Teacher Training program. This 25-hour NGY Teacher Training for 2-7 yr. olds is one of the courses that contributes to fulfilling the 95-hour registry and can also be applied to YA Continuing Education hours.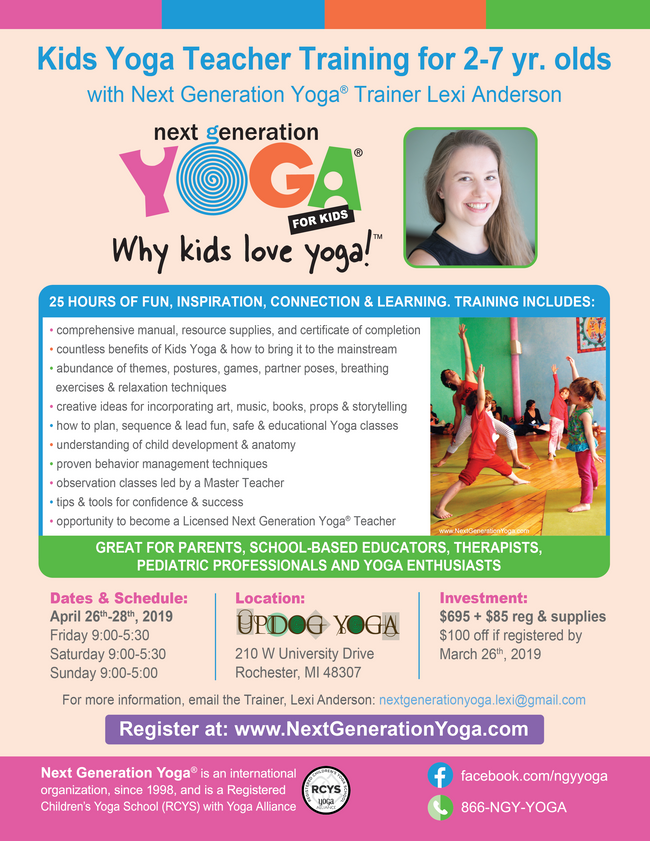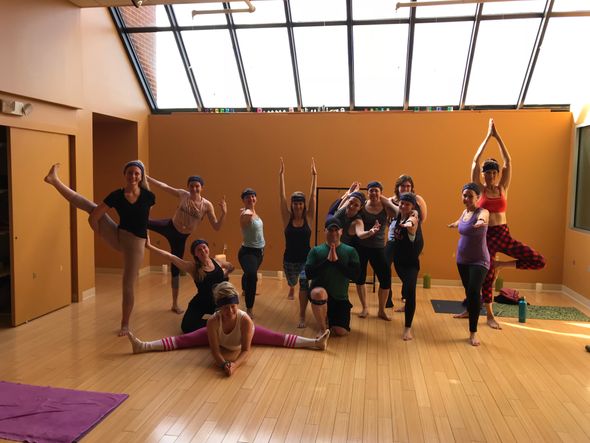 RYT200 Summer Yoga Teacher Training
ENROLL NOW TO SAVE ON TUITION AND TO START FREE YOGA CLASSES TODAY!
Click Here to visit the Teacher Training page for more info
Start planning ahead now for Summer Yoga Teacher Training. This 3-week intensive meets daily for three weeks July 7-July 29.
UpDog School For Yoga can help you begin an open-hearted journey to becoming a Yoga Instructor as you learn how to share what you love with others – it's the best thing you'll ever do!
Call or email Jill: 248.608.6668 jill@updogyoga.com
Take A Virtual Video Tour Of UpDog And Explore Our Beautiful Space!
Visit our second location, UpDog Yoga-Sterling Heights!
Take a virtual video tour of UpDog Yoga-Sterling Heights and our 1,000 sq. ft. practice room located at 13911 19-Mile Road with The Float Institute - a zero gravity float & wellness center. NEW STUDENTS: 5 Yoga Classes for only $15!
Check out our Yoga Class schedule: https://www.updogyoga.com/class-schedule-sterling-heights
Call: 586.232.9555
Email: info@updogyoga.com
UpDog Yoga Welcomes YOU!

UpDog Voted "Best Yoga Studio In Metro-Detroit" by WDIV Click-On Detroit
Visit our beautiful space, warm Yoga community and gifted instructors to see WHY!
UpDog Yoga Named 2018 MINDBODY Visionary!
This award recognizes businesses in the health and wellness industry who are supporting their communities.