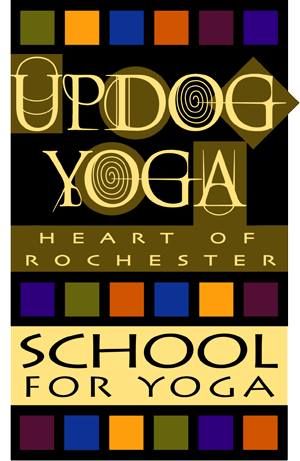 The UpDog School for Yoga is a State-licensed, Yoga Alliance Certified and Still Light Centre Canada Affiliate School offering certified levels of training in Yoga and Yoga-related Therapeutic Arts for 20 years. Our mission is to provide multi-dimensional, highly individualized training for students and teachers with a sincere desire to pursue teaching Yoga and practicing Yoga healing arts.
UpDog's curriculum is both "heart" and "spirit" based, helping students learn the skills necessary to teach mindful Yoga for everyBODY. We embrace multiple styles of Yoga at UpDog. Your training will be well-rounded and cover several core styles of Yoga including: Ashtanga, Basic Hatha, Viniyoga, Vinyasa, Slow Flow and Yin, as well as Meditation, Pranayama, Chakras & Subtle Energy, and an introduction to Nutrition & Ayurveda.
Located In Downtown Rochester, Michigan, UpDog Provides:
- One of our area's ONLY 200-hr. AND 500-hr. Yoga Alliance-Certified Schools
- Our 700+ grads have taught, or are teaching, at virtually every studio in Southeast Michigan; many graduates own their own studios!
- Based on post-graduate surveys, 98% of our graduates report being "very satisfied" with their training and an amazing 99% said they would recommend UpDog Teacher Training to a friend. Yoga Alliance.org
- UpDog teachers and staff are some of the most experienced in the industry, many with the highest certifications available from Yoga Alliance, including E-RYT500 and C-IAYT. We use four "core teachers" and select specialists in specific areas of expertise throughout the program. Our student-to-teacher ratio averages no more than 5-to-1. Our staff's dedication to their students and the sense of community and positive energy at UpDog is readily apparent from your first visit. You will learn from the best and receive personalized attention as part of our Teacher Training program
INCLUDED With Your Tuition Throughout The Training:
- FREE Yoga at TWO studios! Upon enrolling, you will receive FREE Unlimited Yoga at UpDog-Rochester and UpDog-Sterling Hgts., from the date you enroll thru the end of training (over an $800 value).

- Free and discount Workshops

- Discounts on Massage Therapy, Reiki Energy Healing & Vibroacoustic Sound Healing Therapy (individual sessions by appt)

- Free Float Tank Therapy session at our Sterling Hgts. location

- Discounts on Yoga gear, metaphysical items and other merchandise from our in-house retail boutique
Yoga Teacher Training is a wonderful experience that will enrich your life in so many positive ways, both during and after the training is complete. Our program is open to Yoga practitioners of ALL experience levels aspiring to learn, with no prerequisites. People come to our training from all different walks of life, and all are encouraged to use this course to begin or continue a journey of personal exploration and acceptance. Even if you don't plan on teaching professionally, the personal benefits of the program are profound.
Not only will you learn the fundamentals of Yoga and grow your own personal practice, but most importantly, teacher training is a rite of passage that will help you grow as an individual to find more happiness and fulfillment of Mind, Body and Spirit. It is a very individualized and personal experience that pushes our limits, expands our horizons, and opens our heart and mind to shine brightly out into the world with love and compassion to help and teach others.
If you are already looking within, you are searching in the right place. Let us help you on your journey with the experience of a lifetime. We'd love to include you in our program! If you've been considering deepening your Yoga practice and learning how to teach others the amazing path of Yoga, the time is now. Teacher training truly is a life-changing experience. Let us help you find your bliss!
UpDog Yoga Teacher Training - Learn How To Be The Change You Wish To See!
Learn More:
Click below to submit an Inquiry Form
about our Teacher Training Programs
INSPIRE!
Meet Lindsey Wilde, a 2017 UpDog School For Yoga teacher trainer graduate who teaches weekly Yoga classes to her co-workers at the Romeo Ford Engine Plant through the UpDog OM Squad and is also an instructor at UpDog Yoga Sterling Hgts. Attached is a recent feature on Lindsey in the Ford/UAW magazine. Congrats Lindsey, so proud of you for inspiring others, making a difference and sharing the Yoga Love!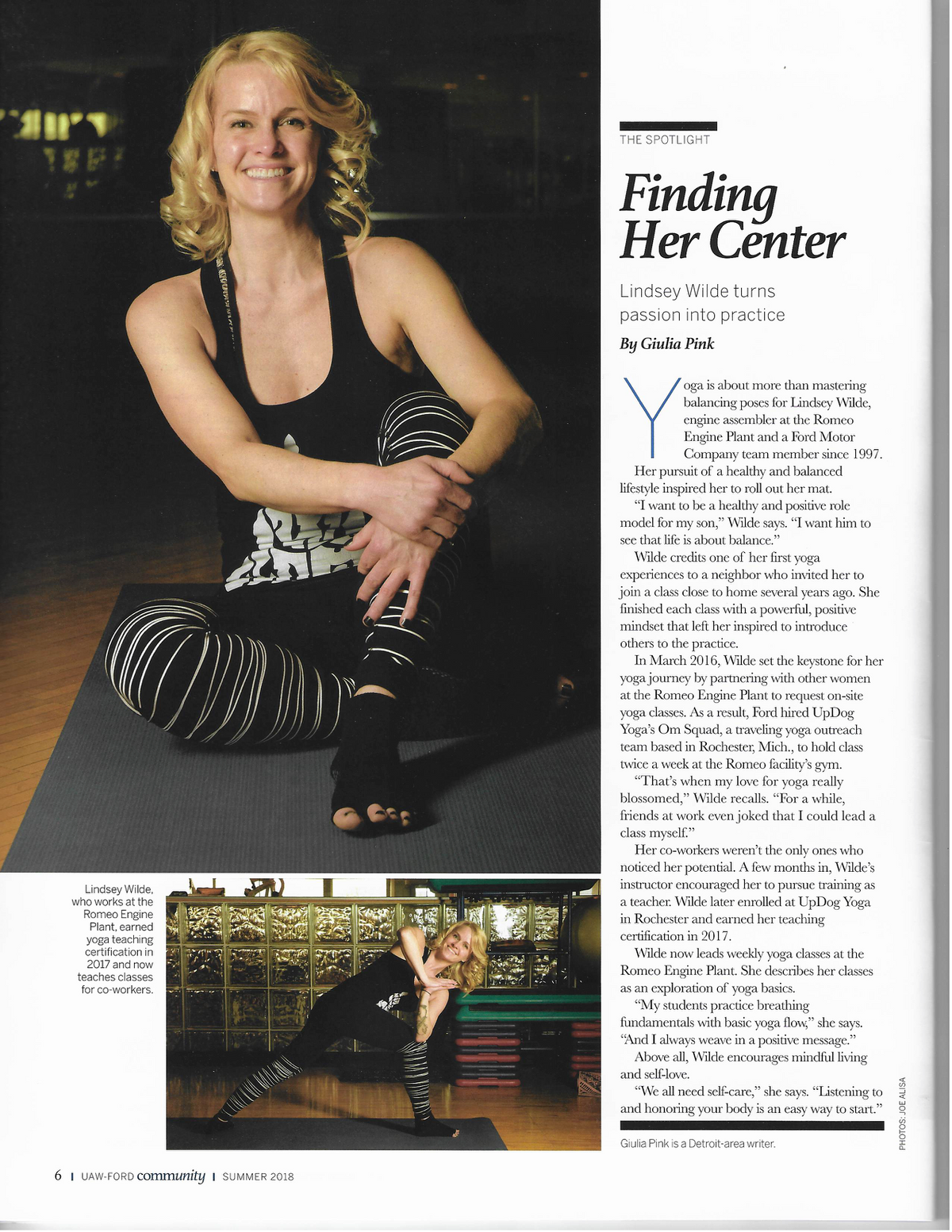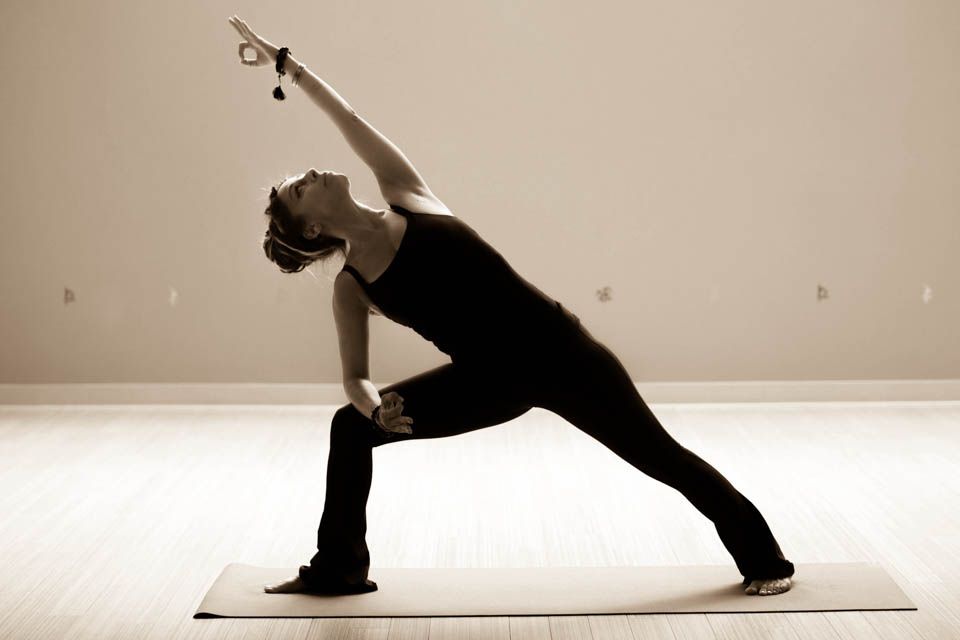 Teacher Trainer Testimonials
"This training was one of the best experiences of my life! The studio has great energy and the program is well put together. Words cannot express the gratitude for the experience I had at UpDog. I have not only grown in my practice, but in all areas of my life. I built new confidence, I grew closer to my daughter who took the training with me, I met many other wonderful people, and I learned so much about what I am already passionate about. Meeting other yogis that are passionate about Yoga and coming together with everyone with the same goal in mind was so rewarding. - N. Perez, RYT® Fall 2020
"The comprehensive material covered was rich and offered an excellent variety of topics to study. I chose UpDog for my training because it covered aspects of teaching not provided elsewhere. The instructors are amazing. I hardly recognize the person I was before beginning the program. I feel as though I have discovered more of myself - physically, emotionally and spiritually." - G. Gatzke, RYT® Spring 2019
"This program was super hands-on learning and I felt competent to try practice teaching to my family and friends within the first several weeks. Now that my training is complete, I feel even more confident and my family wants me to continue to teach weekly Yoga classes to them! It's super empowering to share something that I love with people that I love." - V. Kazinowski, RYT® Fall 2020
"All of the training sessions were amazing and all the teachers were extremely knowledgeable and caring! The research and depth that Jill has put in to develop this training is stellar. Each week helped deepen my practice and the most rewarding thing for me was learning how to be a caring teacher. I would recommend anyone to take this training, whether they plan to teach or not. Yoga has now become a part of my life. I am now always aware of how I choose daily activities to be the best use of my time and energy. I make better food choices and my reactivity has gone down. I will definitely pursue Yoga continuing education here." - S. Ganesh, RYT® Fall 2020
"Great instructors with a diversity of experience. The training program was enhanced by the opportunity to participate in everything offered at the studio - workshops and practicing at UpDog throughout the week complemented and reinforced the lessons we learned in the classroom. I thoroughly enjoyed immersing myself in this Yoga community. So rewarding to connect with others while learning from and supporting each other." - K. Turner, RYT® Spring 2019
"I took this course because I felt like something was missing in my body. The way the program is designed is so comprehensive that I feel so whole spiritually, mentally and physically. It gave me what I was missing even though I can't quite put it into words. The guidance of all the knowledgeable teachers, the readings gave me so much knowledge and wisdom, the workshops enriched me, my classmates were kind and forgiving, and so much more. Thank you for everything Jill. Your kindness, compassion and understanding for everyone in the program is obvious. Your hard work and passion did not go unnoticed. I am so grateful for my decision to do this and that I was drawn to UpDog to do it." - N. Troyanovich, RYT® Spring 2019
"I feel as though I learned so much! Free practice ... great workshops ... helpful, professional binder and materials - it was worth every penny! The program is wonderful - you can practice at UpDog the whole time, you meet GREAT people, the payment plan was very helpful. The program touches on a variety of aspects of becoming a Yoga teacher. UPDOG REALLY PREPARES YOU!" - N. Bommarito, RYT® Spring 2011
"I love the fact that we covered a variety of Yoga styles in the program and had the opportunity to interact with multiple teachers and points of view. I always knew Yoga made me feel better than any other exercise, and now I realize the spiritual aspects of this. I am glad this was explored in the training and I feel like a new side of my life experience has been opened. I have a new found focus on meditation. " - K Cvetkovski, RYT® Fall 2020
"I learned so much in this training program. I definitely see a difference in my body and mental state and meditation is now an important part of my life after this training. I enjoyed the variety of teaching styles from the different teachers involved in the program and each of them showed a great deal of passion for what they do. I loved coming to the studio, such a warm and inviting environment. I learned so much that I feel as if I have won the lottery! It enriched my life in many ways, and I'm so happy to be where I am at today." - R. Sidhu, RYT® Fall 2017
"I really appreciated the variety of teachers -great experience and techniques. The studio was clean and the atmosphere was great. I loved all the extras, the materials, the knowledge of the staff. The enthusiasm of each and every teacher, and the heart and thought that was put into all aspects of the program make UpDog a great learning experience. It provides you with the knowledge you can take out into the world of teaching. THANK YOU ALL!" - C. Lyons, RYT® Spring 2013,RYT® 500 Spring 2015
"The entire training program was wonderfully set-up and I'm so glad I decided to come to UpDog for my training. Very thorough and the instructors were so knowledgeable and passionate. I learned so much and this program has helped me discover and shape the best version of myself." - A. Laura, RYT® Spring 2019
"I was very happy with everyone, the friendly and welcoming feel I have here at UpDog. I had the ability to contact any teacher whenever I wanted, and every single member of the team was willing to help. The retreat and free Yoga classes were awesome!" - C. Beaton, RYT® Fall 2012
"This was a great program that went above and beyond. I learned a lot and feel I can apply this knowledge to my everyday life beyond teaching Yoga in the classroom. Being surrounded by positivity and a like-minded community, I was able to understand myself more and control my anxiety . All of the instructors were great and very knowledgeable in all areas taught." - K. Sweatt, RYT® Spring 2019
"I loved everything and it was an amazing experience! I learned so much, not just about Yoga but about myself. You learn a lot about yourself on all those early Sunday mornings! The program definitely gave me more confidence and helped me let go of any fears that hinder me from doing what makes me happy. I now think more positive and give gratitude. I love this studio and all the workshops and classes it offers." - S. Butty, RYT® Fall 2017
"All the hands-on teaching opportunities and variety of instructors was great - I learned so much! This training experience has also really helped me to calm and control my thoughts so I'm more peaceful and worry less, which feels Awesome!" - J. Lindsey, RYT® Fall 2018
"This program is life changing! I had issues with focus and I can't believe how much this training has helped me. Everything in the program was explained beautifully and I was happy and impressed." - M. Fachini-Kurily RYT® Spring 2019
"To me the competence as well as the passion of a teacher (or the student) makes the difference. I felt that there was an effort made to comprehend each student and take him or her from where they were to where they wanted to go. Real passion to bring Yoga to the world, and to live it. Lots and lots of heart - not just business as usual. Every single session was great, class sequencing was great, practicing call-outs was great. It was a fabulous, mature, very-well developed program - organized and professional. It equips you with the tools you need to successfully teach Yoga." - C. Vogel, RYT® Fall 2012
"Great program! Enjoyed the access to the variety of Yoga styles, lineages, classes and instructors as part of the UpDog training. Appreciate the opportunity to learn from people who are truly passionate about what they do. I came to UpDog already knowing I find peace of mind in my Yoga practice, but now I have a wealth of knowledge behind the practice. I'm leaving with confidence and a greater sense of self . Thank you!" - S. Lancaster, RYT® Spring 2019
"All the teachers made me feel so good about myself! I feel it really helped me to learn to speak my truth and not doubt myself. I am more confident and secure and would absolutely recommend this training program. I especially loved learning Ashtanga and Natalie holds a special place in my heart. Love you all!" - M. Perez, RYT® Fall 2020
"My entire RYT200 experience at UpDog was more than I ever expected! I went into the training with minimal knowledge and ended with more than I ever expected to gain. Teachers are incredibly helpful and wonderful! I will be continuing my Yoga teacher training at the 500 level with UpDog." - J. Sharrow, RYT® Fall 2016
"I feel from my training here I can now be considered among 'the best of the best' as a Yoga instructor because of the knowledge I'm walking away with. I honestly feel much more in touch with myself and it helped me discover so much more in my own personal practice. I feel so much more awake about life in general! " - A. Wininger, RYT® Spring 2019
"Compared to other studios, this was an incredible value for the money, especially considering the retreat, free Yoga, workshops, and food. I thought the quality of material/hand-outs, the opportunities to practice Yoga, to learn new techniques of instruction and the pace/timing of training was excellent. The quality of instruction, the commitment of the staff and teachers and the ability to practice throughout the training were my favorite parts. If you're thinking about it, just do it! It will give you a greater sense of confidence, empowerment and will deepen your own commitment and interest in the process. You won't regret it!" - S. Sarver, RYT® Fall 2014
"Program was organized, great teachers and studio environment. All the teachers were so helpful and I love all the friends and family I've made through this experience." - V. Hodges, RYT® Spring 2018
"I don't have enough words as this program has changed my life completely. I was so broken before I started, but the training has taught me how to be brave and strong and enjoy a better quality of life. I apply what I learned everyday whether through breath, thoughts or Yoga practice and highly recommend this program whether your ultimate goal is to teach Yoga or not. I'm so grateful for everyone and love the instructors so much!" - C. Matteson, RYT® Spring 2019
"Great overview of so many aspects of Yoga! We were introduced to a lot and given all the resources to guide our self study. I plan to teach what I have learned not only in the classroom but to those around me." - L. Kayser, RYT® Fall 2017
This experience gave me so much more confidence and helped my anxiety. It gave me the power to pursue my dream job! I met so many great people that opened up opportunities. I really felt like everyone cared and supported me. The uniqueness of each teacher involved in the program made me realize there is no 'cookie cutter' Yoga teacher or style, and I can just be ME. I can't wait to do the 500hr. training down the road." - M. McCarthy, RYT® Fall 2017
"I am so grateful for all that I have learned here! It truly was an amazing and inspiring journey. I will take these tools with me to share in every aspect of my life. The most rewarding part was our training binder - I now have a piece of all of the things we've done to keep, remember and review always. Every moment is appreciated." L. Morgan, RYT® Spring 2019
"I absolutely loved my experience – it was such a fun, welcoming atmosphere. Actually practicing the poses, learning correct alignment and adjustments was the most effective part of training. Weekend timing is also perfect – Sundays are great because most of us have better availability on the weekend. I think the days were also a good length – the time passed by so quickly! If you are thinking about it, just DO IT – you'll never regret the time you spend at UpDog and you'll learn more than just the fundamentals of teaching Yoga." H. Heugel, RYT® Fall 2016
"I've grown so much these last few months mentally and physically, I don't want the training to be over! My body loves me more and I can better appreciate my body and it's capabilities so much more. Self Love and Growth - my Spirit is HAPPY!" - A. Acosta, RYT® Spring 2019