Individualized Yoga Therapy - Now More Than Ever Is The Time For Self Care!
In-Person or Online Sessions By Appt. with Tracy Flynn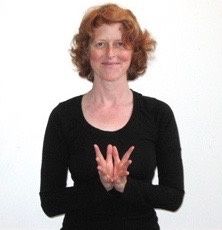 Welcome to UpDog Yoga Therapy with Tracy Flynn, Internationally Certified Yoga Therapist (C-IAYT) & Advanced Yoga Teacher (E-RYT 500)
248-334-7381
What is Yoga Therapy?
Private Yoga Therapy are one-on-one Yoga sessions tailored to your individualized interests, physical needs or limitations. These sessions are specifically designed to help meet your unique needs to face health challenges at any level, manage your condition, reduce symptoms, strengthen your immune system and restore balance. Sessions can be done In-Person at our Rochester Studio or Online from the comfort of your own home.
Whether you're rehabbing from a physical injury, have limited mobility for any reason, or simply prefer a more personalized one-on-one experience for your Yoga practice, Yoga Therapy is a great place to start! Beginners who have never tried Yoga or may feel overwhelmed by a group classroom experience often find these individual sessions a great way to get started. You'll receive individualized attention that builds strength and confidence to continue with an eventual at-home and/or in-studio practice.
What To Expect In A Yoga Therapy Session?
Yoga Therapy sessions include a personalized consultation and assessment which incorporates a goal plan and timeline. During your first session you will explain the history of your conditions and your health goals and answer a few questions. Tracy will then lead you though a practice to address your specific needs in a way that is relevant and comfortable to you.
From there, you can continue with individualized sessions tailored to your schedule, needs and progress - all with the benefit of Tracy's knowledge and expertise to guide you through each subsequent session. Tracy has been teaching Yoga full-time for over 20 years and providing Yoga Therapy to clients of all ages, including children, for over 10 years.
We often begin with simple, yet effective, short practices so you are able to practice on your own. After a few days or a week we meet again to check on your progress, clarify the practice and add to or adjust it, as needed. For maximum effectiveness most people start with a minimum of 2-4 sessions. If you choose to continue, we can then meet less frequently to monitor your practice and make adjustments.
Yoga Therapy includes not only the physical Yoga practice itself, but can also incorporate Pranayama breathing techniques, meditation to quiet the mind, or other modalities. Yoga Therapy can help reduce pain and promote healing for structural conditions, such as back pain, physiological conditions, such as breathing problems, and psycho-emotional conditions like anxiety. Whatever your personalized session plan entails, you'll receive the benefit of consultation and mentorship each step of the way to help you reach your health goals.
Yoga is such a wonderful practice to relieve stress and to help maintain your overall health and vitality of mind, body and spirit to stay strong, safe and well. Tracy as a compassionate, caring and inspiring coach is there to help you succeed!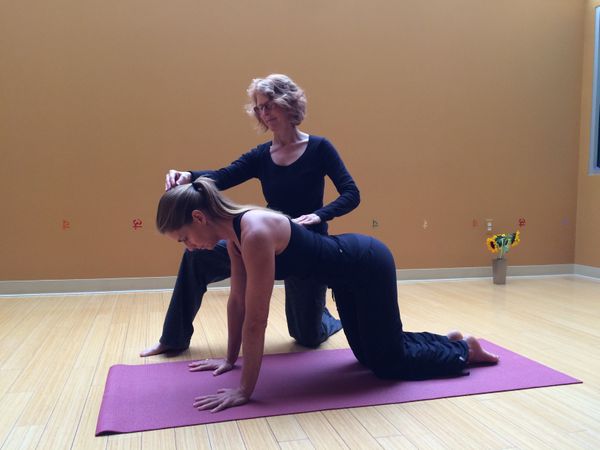 What is the Cost?
Sessions are typically 60-minutes and can be scheduled either as in-person sessions In-Studio and/or Online sessions via Zoom:
How To Make A Yoga Therapy Appointment
Contact Tracy Flynn direct to discuss your in-person or online needs and to find out if Yoga Therapy is right for you:
Call: 248-334-7381
Email: tracyflynn@hotmail.com
For in-person sessions, please arrive five minutes prior to your session and check-in at the UpDog Front Desk. Comfortable "yoga clothing" is recommended. Props etc. are provided for your use.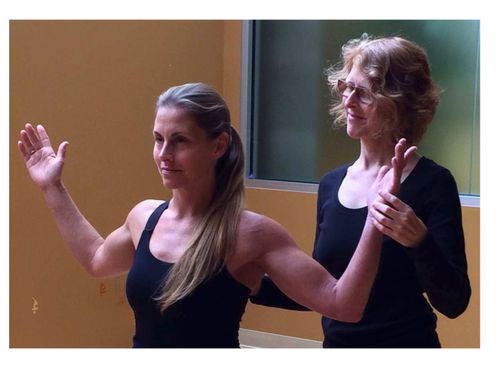 More About Tracy Flynn
One of UpDog's very first Yoga instructors, Tracy has been teaching Yoga full time for 20 years and became a Yoga Therapist in 2011. She also served as the on-staff Yoga Therapist at the Institute of Neuromuscular Medicine in Detroit.
Tracy has Advanced Yoga Teacher Training (E-RYT® 500), and is registered with the Yoga Alliance. She attained her Yoga Therapy Certification through American Viniyoga Institute. The training was a two- year, 500 hour training. American Viniyoga Institute is an IAYT Certified School.
Yoga Therapy For Better Bones Classroom Series In Rochester: 5 Weekly Sunday Afternoon Sessions July 9-Aug 13 @ 12:30-1:30PM
Only $125 per person for all 5 weeks: 7/9, 7/16, 7/23, 8/6, 8/13 (note no class on 7/30). Visit Workshops page for details and to register, or call 248-608-6668: