We offer a variety of Outdoor Yoga Classes and Events in our local Rochester and Sterling Heights communities, and the greater metro-Detroit area. We absolutely love to play outside, and there's nothing like experiencing a Yoga class in nature and the great outdoors!
Visit this page for upcoming Outdoor Yoga events offered seasonally, which include:
Stand-Up Paddle Board Yoga (Summer)
Goat Yoga (Spring/Summer)
Sunflower Yoga (Summer)
Apple Orchard Yoga (Fall)
Yoga In The Park (Summer)
See below Schedule for current/upcoming Outdoor events which are updated seasonally. Click the filter icon in upper right corner of below Schedule to narrow or expand your view by week/month.
To ensure a spot for any Outdoor Yoga Classes and Events we recommend, or often require, advance pre-registration online. Please review the individual event descriptions by event for details on how to register for each unique event, which can vary depending on the type of event or location.
Please contact us with additional questions about any of our Outdoor events: 248-608-6668 or Email: info@updogyoga.com
Paddle Board Yoga On The Lake At Stony Creek! Sundays Aug. 8, 15, 22
Join UpDog at Stony Creek Metro Park for fun in the sun with Stand-Up Paddle Board (SUP) Yoga. No prior experience required – come and give SUP a try! Boards, paddles, life vests and instruction provided.
Three Beginner Level class times to choose from on Sunday Aug. 8, 15, 22:
10:00-11:00AM
11:30AM-12:30PM
1:00-2:00PM
Cost: $32 per person includes board/paddle (advance payment required; park admission not included). Meet at Eastwood Beach.
Pre-register on Workshops page:
Paddle Board Yoga Registration
Or Call: 248.608.6668
Space is limited to 14 per class, so please pre-register early to ensure a spot.
Check out the SUP Yoga Video!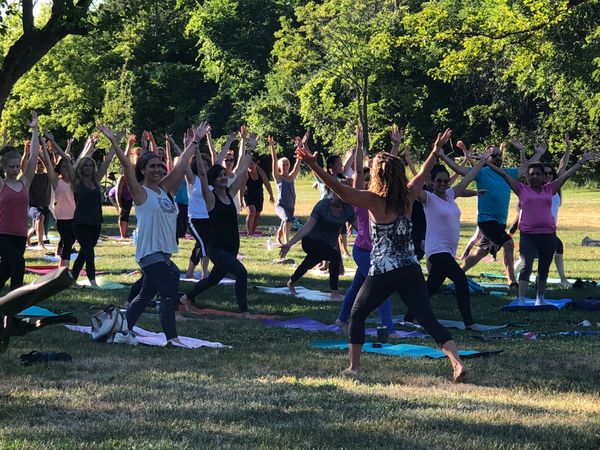 Outdoor Basic Yoga At Rochester Municipal Park Thursdays, Aug. 12 & 26
Pre-register For June-Aug Yoga In The Park dates:
Aug. 12 Outdoor Yoga In Park Registration
Aug. 26 Outdoor Yoga In Park Registration
Or Call: 248.608.6668
Join UpDog Instructors at Rochester Municipal Park Thursdays, Aug. 12 & 26 for a Basic Yoga Class in the fresh outdoors! This 60-minute class at 6:30-7:30PM includes light movement, stretching and a relaxing savasana while tuning into the sights and sounds of nature. Appropriate for all levels – Everyone welcome!
Meet at the pavilion just across the walking bridge from the main park entrance off Pine Street (just a 2 minute walk from UpDog).
Bring your Yoga mat and optional blanket. Walk-Ins Welcome!
Cost: $5 per person advance registration ($10 cash at door)
Rochester Municipal Park main entrance is located off of Pine Street in downtown Rochester, directly behind UpDog Yoga studio and the Rochester police station.
Sunflower Yoga at Westview Orchards, Saturday Mornings, Aug. 7 & 21 and Wednesday Evenings, Aug. 11 & 25
Take in the sunshine and fragrant fresh flowers with "Yoga in the Sunflowers" at Westview Orchards & Winery. We'll escort you via wagon ride out to the peaceful sunflower field for a one-hour Basic Yoga class where you can choose your own fresh sunflower to bring home with you!
Pre-register online with Westview to reserve your spot. Space is limited:
Saturday, Aug. 7 at 8:30AM
Wednesday, Aug. 11 at 6:30PM
Saturday, Aug. 21 at 8:30AM
Wednesday, Aug. 25 at 6:30PM
All ages and Yoga skill levels are welcome (children must be accompanied by an adult). Bring your Yoga mat or towel.
Cost: $40 per person (includes round-trip Wagon Ride, 60-min Yoga Class, and U-Pick Sunflower)
Westview Orchards & Winery is located at 65075 Van Dyke in Washington, MI (corner of 30 Mile Rd. and Old Van Dyke) 586-532-3123
UpDog Community Yoga At Rochester Municipal Park
Basic Yoga classes for everyone of all ages and abilities twice monthly all Summer long at Rochester Municipal Park (park located just behind UpDog Rochester studio).
Much gratitude to our wonderful Outdoor Event Partners and Hosts!